Can you tell us a little about your company and your role?
My brother and I founded Alpha Software Corporation over 10 years ago to build easy-to-use, but powerful, development and deployment products that solve complex problems for mobile and web app developers.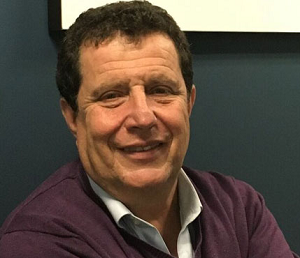 We're now an award-winning, top rated low-code app development company. Our low-code app development products are recognized for serving both experienced developers and citizen developers who need to build sophisticated mobile apps that can run on any smartphone and tablet, even without a WIFI or cell connection.
As CEO of Alpha Software Corporation, I focus on strategy and accelerating the global growth of the Company's low-code app development and deployment solutions.
Can you share a few keys to growth?
Alpha Software operates in a competitive low-code development market. It's critical that prospects clearly understand why our products are different and where they excel. Prospects regularly read public product reviews for unbiased peer opinions. Our customers have taken a large role in telling the market about the power of our products and explaining how our software has enhanced their businesses.
Alpha Software customers regularly post 5-star reviews on TrustPilot, Capterra, G2Crowd, Gartner Peer Insights, and other product review websites. They've discussed the power of the Alpha Anywhere low-code development and deployment environment and its affordability for all sizes of organizations and SaaS entrepreneurs.
Showcasing customer success is also key to our successful growth. We regularly showcase stories of developers who have digitally transformed their organizations or built hundreds of apps with our products, in record time.
What is one thing that keeps a company from growing?
Office politics is akin to internal warfare. Good leaders remind their colleagues that if attention is paid to internal conflicts, it will weaken the company, impact competitiveness and put jobs in jeopardy. On the other hand, a company culture that keeps the organization laser-beam focused on the external market battles puts the company on the road to winning by satisfying customer needs. To make this goal easier to achieve, it is critical to assess the personality traits of people. The goal is to hire people who understand the power of a team and avoid hiring prima donnas.
Can you share something that has surprised you or a lesson you have learned that goes against conventional wisdom?
Many companies turn inward to develop new products and ideas. We believe that the best way to innovate is by listening to our customers and their current and future needs.
For example, we first identified the need for intelligent offline apps years ago when our customers started to face challenges delivering applications to employees in the field. Analysts and other competitors weren't even talking about offline needs at that point – it wasn't on their radar. Our aggressive work to build robust offline features into our products earned a patent and won the InfoWorld Technology of the Year Award. Without listening to our customers and working to solve their problems, we would have missed that opportunity.
Do you use video in your marketing and if so, how?
We believe that video is critical to showing the power and flexibility of our low-code app development and deployment products to prospects and customers. We have a free, fully searchable library of over 1,000 demos, tutorials and instructional videos to help app developers learn and become proficient at our products. We also have an extensive library of videos on YouTube.
Due to the pandemic, we had to take our annual face-to-face user conference virtual this year. We used video to enable this online conference and engage attendees around the world who have not had an opportunity to attend an event in the US before. Our virtual Alpha DevCon online conference was so successful this past fall, we plan to add more virtual events to the calendar in 2021.
Do you have one piece of advice to share with SaaS startups who are looking to grow?
I would tell them: "Now is the time to build your SaaS app!"
History shows that uncertain times can give rise to incredibly successful companies, including SaaS businesses – Salesforce, Google and Facebook are great examples. When companies are facing new challenges, entrepreneurs are in an ideal position to leverage their experience, build SaaS solutions, and take advantage of new opportunities in specialized and vertical markets.
We strongly believe in helping entrepreneurs succeed and have launched a product that allows entrepreneurs to build SaaS apps for free in time to seize market opportunities before competitors. Once they've built and tested their SaaS solution, they can deploy it for as low as $99/month.
I recently wrote my opinion on why now is the perfect time for SaaS companies to move, and why we launched this free product to help these entrepreneurs succeed.
-------------------------------------------------------------------------------------------------------
Thank you Richard for your time! When you are in challenging times it easy to lose sight that great things can come from those struggles as your examples show. Plus, we love the idea of enabling entrepreneurs to succeed in areas where it used to be a huge challenge.
If your business is looking for a low-code app development platform check out Alpha Software .