Can you tell us a little about your company role?
Megaventory is a cloud-based order and inventory management software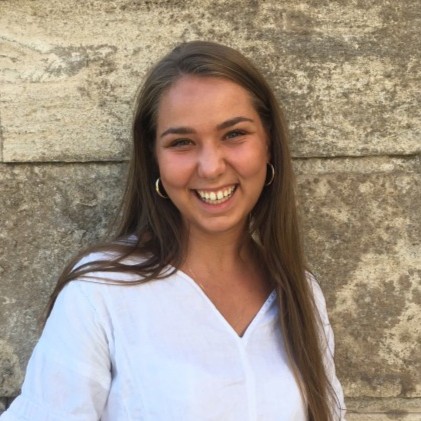 application, that helps businesses manage their stock and minimize waste. We are passionate about providing excellent customer support and a user-friendly environment cost-effectively. As a company, this means a lot of coding, developing, and a constant push for a better product!
My role at Megaventory is in marketing and content creation. Practically, this means working behind the scenes of our marketing projects, making sure our new features reach the right clients and helping new businesses find what they need in terms of inventory management. I write about all things e-commerce and cloud business solutions on our blog as well.
Our marketing team is constantly looking at ways to see more growth in engagement and ultimately in the business as a whole. This means pitching half-ready ideas, discussing reasons for a stall, and trying to see behind the first obvious answers. Being a part of the marketing team at Megaventory is a super fun way to stay connected to both our product and our awesome clients!
Can you share a few keys to growth?
As much as we would all want there to be a simple "hack" or a 1-2-3 for growth, the key really is hard work and solid analysis! Finding what works for your target demographic and how to reach out to them might take some time, and it might also change over time. If I were to share two main things that I swear by, they'd be these:
Mix the old and the new. I'm convinced that there is a lot of wisdom in tried and true methods of marketing and growth marketing. The key for growth is understanding these traditional methods and the logic and statistics behind them, and then with a fresh perspective start thinking outside of the box! Even if you're taking a new approach, it's essential that you understand the reasons why behind the old one.
At Megaventory, we evaluate every new idea in terms of effort and possible positive outcomes. This is called the ICE Score. Each idea is given a score on impact, confidence, and ease. Impact: how much impact this would have? Confidence: How confident are we that this will be successful in producing the assumed impact? Ease: how time-consuming/hard will it be, do we have the resources for this? If the overall score is good, we give it a go.
If you never try anything new, there will be no change in the results you are seeing. On the other hand, there is no reason to re-invent the wheel every five years just for it to look prettier.
Know the goal of everything you do. Always ask the why before you start doing. Don't do things that are trendy just because they are trendy. Do things that you are able to trace back down to your company vision and values. Pinpoint exactly what you are trying to do and why you are doing it. You need to know what the logic behind each effort is.
What is one thing that keeps a company from growing?
Ignoring best practices! There is a reason that best practices are called best practices. Obviously, you need to think critically and apply them to your situation/specific business model, but ignoring them completely is really a roadblock for growth.
Can you share something that has surprised you or a lesson you have learned that goes against conventional wisdom?
Being unique and original is easier said than done. Even though conventional wisdom says businesses need to be original in order to "make it" or stand out, everyone still seems to be doing more or less the same thing. We get so caught up in being "relevant" to our target group that we forget to rattle the boat a bit and move outside of the norm. What really makes you different?
Do you use video in your marketing and if yes how?
Video is not our primary channel for communication, because a fast-paced online service like Megaventory is constantly improving and we update our marketing content regularly. Doing marketing and promos in written or graphic form has proven to be our sweet spot so to speak. They are easier to keep up to date with a quick edit. Who doesn't love some good evergreen content?
For major projects, we do use video. These would generally be tutorial/demo videos. We also offer live video demos, where we show potential clients how Megaventory could solve their issues through a screen-sharing call. These get recorded and sent to the client - the video material is personalized and super helpful for evaluating if Megaventory would be a good match for your business. This is a free service we offer to anyone interested!
Do you have one piece of advice for SaaS startups that are looking to grow?
Growth comes from a place of pressure, of "something has to change". Figure out what it is that needs to change in your startup and then go for it! The key is to stay true to the vision of the company and know how to share it with the world. Sometimes you just need a fresh perspective on the original vision, and you're good to go.
Irene Dimakides handles online marketing and content creation for Megaventory, the cloud-based inventory management application that helps businesses synchronize their stock and orders over multiple locations.
-------------------------------------------------------------------------------------------------------
Thank you Irene for your time! We are big fans of using the ICE framework for prioritizing your initiatives and love the idea of combining the best of old and new to drive growth. If your company is looking for an inventory management solution check out Megaventory ...